STUNNING REVELATIONS on the Tom Reynolds - Mark Foley Connection!!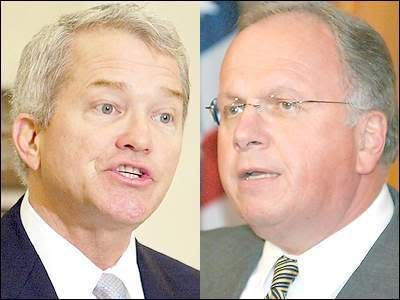 "[Tom Reynolds' opponent ]Jack Davis is interested in protecting the jobs, families and values of western New York. Tom Reynolds is interested in protecting his power and position in Washington."

-- Davis spokesman Curtis Ellis
A poll released on September 28th, by Survey USA, shows Tom Reynolds leading Jack Davis by a margin of 45% to 43% with the Green party candidate receiving 8% support and 4% undecided. However, a court has just ruled that the Green party did not submit enough valid signatures, so their candidate will be stricken from the ballot.
I bet you can see where I'm going with this;)
The machinery is failing. The gears are exposed. The rust is gathering.
NRCC Chairman Tom Reynolds (NY-26), Speaker Dennis Hastert (IL-14), Majority Leader John Boehner (OH-08), John Shimkus (IL-19), Rodney Alexander (LA-05) -- the Cover-up Kings -- are fighting for their political lives -- with each other.
These are battles that could mean the effective end to the GOP in NY, IL, and OH -- states where the party already struggles as a shell of an age now passed.
And these won't help...
REVELATION 1)
According to today's NY Post
:
In another stunning development, Robert Novak today reveals... that even after House GOP leaders knew that Foley had written an inappropriate e-mail to a 16-year-old former male page, they were still urging him to seek re-election.

Novak writes, "A member of the House leadership told me that Foley, under continuous political pressure because of his sexual orientation, was considering not seeking a seventh term this year but that Rep. Tom Reynolds, chairman of the National Republican Congressional Committee (NRCC), talked him into running."
Well, thank you Tom Reynolds. Where would we be without you? Gotta make sure you preserve that seat, pages be damned!
REVELATION 2) Tom Reynolds and Mark Foley SHARED a Chief of Staff!!
And...
REVELATION 3) Reynolds' Chief of Staff tried to suppress the ongoing release of Foley's perverted communications.
So here we have Tom Reynolds covering up for a pedophile -- and all to preserve his political position in our government's majority party. Worse, his Chief of staff, Kirk Fordham, yesterday, was attempting to suppress further revelations of Foley's reprehensible perversion.
Rep. Tom Reynolds was embroiled again Tuesday by reports that his chief of staff tried to persuade ABC News not to report the most sexually explicit computer messages between former Rep. Mark Foley of Florida and teenage congressional pages.

Democratic Party officials in New York charged that aide Kirk Fordham... tried to limit the scandal involving Foley, for whom he once was chief of staff.
That's right! Reynolds current Chief of Staff is Foley's ex-Chief of Staff. Oh, the ties that bind!
But no worries, Fordham's motives were pure. You see, he "was just trying to spare Foley's sister, Donna, and his ailing parents." Clearly there was no political motivation whatsoever. Just as there was no political motivation behind then Governor Bush's withholding of a DUI conviction prior to the 2000 election. He just wanted to spare his poor, innocent daughters.
When interviewed by the Rochester Democrat & Chronicle, Fordam did what comes naturally to Republicans. He lied and tried to manipulate the media.
Fordham confirmed that he had called ABC News reporter Brian Ross on Friday, but said he only asked him to edit the explicit instant e-mail messages by Foley rather than using them in their entirety. In exchange, Fordham offered Ross an exclusive story about Foley's resignation.

ABC, which broke the story Friday, refused.

[...]

[ABC News Reporter] Ross disputed Fordham's account, saying he had been asked to suppress all of the messages.
And Democratic Party Spokesman Blake Zeff sums it up pretty accurately:
"First we learn that Tom Reynolds was told about inappropriate e-mails from a congressman to a minor, and covered them up. And now we learn his top staffer was trying to broker a secret deal to keep the story from seeing the light of day. Obviously Tom Reynolds has a lot of explaining to do."
No, Tom Reynolds has no explaining to do. Instead, he should simply step down from his position as head of the NRCC and the voters of NY's 26th district should vote him so far out of office, he'll have to fill out an absentee ballot just to vote in 2008.
So is Tom Reynolds Going Down?
James Campbell, a political scientist at the University of Buffalo, said Reynolds will likely survive the flap, but he needs to fully explain his role in it. "It's very important in the next week that he makes it absolutely clear what did he know, what he did about it and why, and avoid any appearance of spinning."

SPIN: Here, Reynolds uses kids as props to distance himself from his perverted colleague
Fair enough. Here is Reynolds' explanation:
"Rodney Alexander brought to my attention the existence of e-mails between Mark Foley and a former page of Mr. Alexander's. Despite the fact that I had not seen the e-mails in question, and Mr. Alexander told me that the parents didn't want the matter pursued, I told the Speaker of the conversation Mr. Alexander had with me.

"Mr. Alexander has also said he took the matter to the Clerk of the House. An investigation was then conducted by the Clerk and John Shimkus on behalf of the House Page Board.

"Mark Foley betrayed the integrity of this institution as well as the trust of his colleagues and constituents. There is no excuse, and he needs to be held accountable."
Well, that pretty much clears up... NOTHING!
Time to get real.
Democrat Jack Davis is running against Reynolds on November 7. Davis is a millionaire who spent $1.2 million of his own money on the unsuccessful race in 2004 and plans to spend $2 million this year.
Let's help him spread the word!
Now is the time to hit Reynolds full force. Rip this guy apart.
In addition, if you blog NY local politics (Looking at you Buffalo Girl;) Time to go to town.


And let's not forget

that anything that is bad for the NY GOP is good for our man BRIAN KEELER who is fighting a blistering battle for the NY Senate's 41st District against incumbent Stephen Saland.
KEYWORDS
:
Tom Reynolds
,
Mark Foley
,
Republicans
,
Scandal
,
Pedophiles
,
Elections 2006
Sign up for a Complimentary Member Account... Join the community! It's fast. And it'll allow you to take advantage of all this site's great features!