Barack Obama, Just the Beginning, (July 2 - July 8, 2007
Debate Schedule
July 23, 2007 - Charleston, South Carolina (CNN/YouTube)
August 19, 2007 - Des Moines, Iowa
September 26, 2007 - Hanover, New Hampshire
October 30, 2007 - Philadelphia, Pennsylvania
November 15, 2007 - Las Vegas, Nevada
December 10, 2007 - Los Angeles, California
January 6, 2008 - Johnson County, Iowa
January 15, 2008 - Las Vegas, Nevada
January 31, 2008 - California
The Good, The Bad, and The Ugly....
Let's Go....
July 2, 2007
Well, the buzz is still about Senator Obama's Q2 money haul. And it was a haul. 32.5M raised, with 31M for the primary. Again, something is going on out there.

"Together, we have built the largest grassroots campaign in history for this stage of a presidential race," Mr. Obama said in a statement. "We now have hundreds of thousands of Americans who are ready to demand health care for all, energy independence and an end to this war in Iraq."

The Obama campaign said it had attracted new 154,000 contributors in the second quarter, with $31 million designated for the primary race. Over all, the campaign said it had raised at least $32.5 million least", are there more checks ther during the second quarter, including at least $1.5 million that can be used in the general election campaign, should he win the nomination.

The second-quarter figure brings the amount of money the campaign has raised this year to nearly $56 million.
"Together, we have built the largest grassroots campaign in history for this stage of a presidential race," Obama said in a statement. "We now have hundreds of thousands of Americans who are ready to demand health care for all, energy independence, and an end to this war in Iraq. That's the kind of movement that can change the special interest-driven politics in Washington and transform our country. And it's just the beginning."
Wow, notice how the Obama Campaign use the term "
at least 32M
", as if all the checks were not counted?
When this race started it was widely assumed that Clinton would dominate the money chase. But that conventional wisdom has been upended as Obama has outraised Clinton in primary cash for the second straight quarter. Obama's success on the fundraising trail came even as Clinton rode high in national polls and was widely recognized as performing best of the top candidates in the three debates held during the past three months.

Is Obama's fundraising performance a game changer? And should Clinton still be considered the frontrunner?

The answer to both questions, we think, is yes.

Obama is now moving into a position to dictate the terms of the rate and depth of spending in the caucuses and primaries. All of the other candidates -- including Clinton -- will have to watch and see what Obama's spending strategy is over the coming months. Obama will have the resources to run Rolls Royce campaigns in each of the first four states -- Iowa, Nevada, New Hampshire and South Carolina -- and build the sort of organizations in places like Florida, Michigan and California to capitalize on any early momentum he gathers.
And you think money does not matter? Yes, it
DOES.
Any Pressure Yet?
Any Concerns Yet?

"If I were Hillary Clinton, I would be a little bit worried," said professor Larry Sabato, director of the University of Virginia's Center for Politics. "I'd be looking over my shoulder at Barack Obama."

It's more than just the total amount, it's where the money is coming from. In the first six months of this year, Obama raised more money from more than a quarter of a million donors.

"This is a real warning sign to Hillary Clinton and her campaign," Sabato said. "What they don't have is the energy and enthusiasm in the grass roots that Barack Obama currently controls."
And, this:
There is no other way to put it: not only did Sen. Barack Obama set a record for single quarter donations by a Democratic candidate, but his fundraising total -- $31M from 154,000 new donors -- imposes an obligaton on all of us who cover the race: we need to figure out why the "national" frontrunner, Hillary Clinton, isn't generating as much excitement as her chief competitor.

Lastly,
why the
SHOCK and AWE????
Many reporters expected Barack Obama to outraise Hillary. For some reason, those same reporters are now expressing surprise at Obama's haul and once again re-writing recent history: "Hillary's inevitability is lost" -- (Wasn't it lost the moment Obama got in?) "Obama is about to surge in the states" (Where'd that come from?) "Obama has more enthusiasm than Clinton" (In some polls, yes, in others, no.) "The early state polls don't really reflect anything" -- (This is human tendency to downgrade the importance of evidence that doesn't fit the narrative.)

To me, what's most interesting about Obama's fundraising total is not what it says about the future. It's what it says about the state of the party right now, the divisions within the party's base, the enthusiasm of the Democratic donor base generally, and the willingness of donors to contribute to an idea -- that Obama's election will Change Things -- than a resume -- Hillary Clinton's.
Where We Stand, A Must Look
Yes, what does 31M for the primaries mean? For me, I would think, serious grassroots building, opening offices, training for the early states, and building for Florida and California. He has a 527, dedicated to banking 500K absentee ballots in California. (again the campaign is not associated with VoteHope2008) So, what does it mean?
The first set of questions are horse-race-ish: Does being an Obama donor mean you are an Obama voter or volunteer? I think that's a harder question to answer than it seems in light of the fact that we know his campaign (admirably) asks lots of people for fairly small amounts of money. Someone may be willing to pay $5 or $10 just to go see Obama speak, but that doesn't necessarily mean they support him. Hell, I might consider paying $5 or $10 to go see one of the Republicans speak just to hear them and evaluate their skills -- but that sure as hell doesn't mean I'd vote for them or work to get them elected. So how much of the 350,000 represents die hard support, and how much represents interest in a media spectacle?

Second set of questions: Though getting so many people to contribute money to the political process is absolutely great, is there anything slightly troubling about it? What I mean is this: Barack Obama has very little experience, and, in my honest opinion, has yet to take either many strong, power-challenging positions on key issues, or really tell us what a Barack Obama presidency would be all about (beyond buzzwords like "hope" and "change"). It's quite possible that's because he's waiting until later on in the election process to do so, considering that, despite the media's hyperventilation, we are still a full seven months away from the first primary votes being cast. Or, alternately, perhaps his relatively undefined profile exists because he just isn't interested in really fundamentally challenging the status quo -- I can't be sure, because I'm not inside his campaign.
These are good questions, and this is a good article. Because now is the time to
"move this campaign, to the next level and be ready, totally, for the fall."
WORD ON THAT.
Campaign Update
If you missed the PBS Presidential Debate you can watch it here, and watch Tavis Smiley's assessment of the debate on Washington Journal here. For the money analysis of Quarter 2, from David Brody, on Washington Journal, July 2, 2007, here. (you need real player to view the video)
Rasmussen Poll: Clinton 39, Obama 26, Edwards 13
Not much of a change. I expect a bump on this Monday, due to Obama's Q2 numbers, but the campaign seems to be comfortable where they are at, for right now.

Clinton 39%
Obama 26%
Edwards 13%
Richardson 5%
Biden 3%
Kucinich 3%
Dodd 1%
Rasmussen First New Hampshire Poll

The first Rasmussen Reports poll of the New Hampshire Presidential Primary finds New York Senator Hillary Clinton comfortably on top with a 17-percentage point lead over her nearest competitor. Clinton attracts 38% of the vote while Illinois Senator Barack Obama is a distant second at 21%.

The telephone survey of 428 Likely Voters found former North Carolina Senator John Edwards in third place with 10% of the vote. New Mexico Governor Bill Richardson is close on his heels at 9%. Delaware Senator Joe Biden earns 3% support. Connecticut Senator Chris Dodd and Ohio Congressman Dennis Kucinich each attract 2% support while former Alaska Senator Mike Gravel is favored by less than half a percent of likely voters.
Obama choice among
Arab/Muslim Americans
Thirty-seven percent of the Arab-American Democrats or Independents who were polled said they would vote for Sen. Obama in a primary, while U.S. Sen. Hillary Clinton got 33%. John Edwards got 12%, and Bill Richardson, 10%.

Among Arab-American Muslims, Sen. Obama's support jumped to 50%, while Sen. Clinton got 38%.

The nationwide poll was conducted by Zogby International and was released by the Arab American Institute on Thursday. They polled 501 Arab-Americans across the country from May 22 to May 26, asking them 38 questions. It has a margin of error of plus or minus 4.5 percentage points. [....]

Over half of the Republican Arab-Americans polled, 53%, said they would vote either Democrat, or that it would depend on the candidate.
Barack Obama: Obama Secures Funding to Strengthen Illinois' Criminal Justice System, Support At-Risk Teens
Barack Obama: Obama Secures Funding to Construct Asian Carp Barrier
Michelle Obama in South Carolina, Stumping for her husband

Michelle Obama, wife of Democratic presidential candidate U.S. Sen. Barack Obama, visited Greenville and Simpsonville, today and spoke to groups of women about ways to improve daily life in the United States and abroad.

Her speech to about 300 women at a fund-raising luncheon at Bethlehem Baptist Church in Simpsonville focused on the needs of women in health, education and family life.

As women, we cannot afford to neglect ourselves, she said. Every woman that I know regardless of race, education, income, background is struggling to keep her head above water.

She later visited the Phillis Wheatley Center in Greenville, where she spoke to a group of girls and toured the facility.
Obama had nearly double the amount of Buzz than Hillary Clinton (who is ranked #2 in terms of Buzz volume). -- The Democrats (Barack Obama, Hillary Clinton, John Edwards, Bill Richardson) significantly dominate online discussion compared with Republicans (John McCain, Rudolph Giuliani, Mitt Romney, Ron Paul) overall, with nearly double the amount of blog posts for the trailing 12-month period. -- Buzz for each political candidate peaked immediately after their announcements for candidacy, then tends to level off. 2008 Presidential Campaign Political Buzz Blog Post Analysis Democratic Party Republican Party June 15, 2006-June Buzz Buzz 15, 2007 Candidate Share Candidate Share Barack Obama 45.5 John McCain 37.9 Political Buzz Hillary Clinton 32.0 Rudolph Giuliani 25.1 Party Share Democratic 64.3 John Edwards 17.5 Mitt Romney 22.7 Republican 35.7 Bill Richardson 4.9 Ron Paul 14.2 * Source: Nielsen BuzzMetrics

Obama Making His Case
Barack Obama may be the only black candidate in this year's presidential field, and he may have the best chance to become the nation's first major-party black presidential nominee, but fellow Democratic hopeful Hillary Clinton remains better liked among African-American voters.

According to a recent USA Today/Gallup poll, the freshman senator from Illinois trails the former first lady among blacks, 35 percent to 41 percent. The gap between the two was evident at last week's Howard University debate, where Clinton received a warmer reception than Obama among the largely black audience.

But there are still more than six months before the primaries begin, and Obama is courting the black vote hard. Tonight at 10 he appears on TV One, the cable network aimed at African Americans, for a special "In Conversation" interview on issues of importance to black voters.
Obama's Statement on I. Lewis "Scooter" Libby's Commuted Sentence
Talk about hypocrisy? Just too, much.
When fifth-grader Amy Johnson asked him how he was going to help her get a better education, he asked her if she is studying hard.

"Despite the slogans, millions of children are being left behind," he said, repeating that he would pay teachers better, hoping to encourage young people to become teachers to replace the nearly 1 million he said would be retiring in the next decade.

"Education begins at home," he said, encouraging Amy and the rest of young America to turn off their televisions and play fewer computer games.

He said he would support more early childhood education and better training and pay for teachers. He said there needs to better assessments and one of his biggest problems with No child left Behind is that it forces teachers to teach to one test.

"I just paid off my student loans," said Obama, who is 45-years-old. He said he would take the $8 billion that goes to the middlemen who distribute education money and redistribute it to the students who need it.

"We need to expand grants, not just loans," he said.
.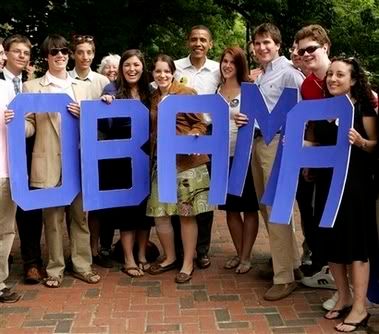 Senator Obama in Laconia, New Hampshire
NPR Radio Link to Obama in Laconia, NH
July 3, 2007
And Even More from Laconia, New Hampshire

For about 90 minutes Monday, Laconia was Obama Territory -- and the senator did what he came to do by convincing at least a few of them he was ready to be their next president.

"I made my mind up when I saw him in Keene," said Marjorie Bonneville of Tilton who, along with her husband, wore green and white "Obama" T-shirts. "He's sincere. He's down-to-earth and listens to people."

"He's got a heart. I can tell. He wants to help people," said 85-year-old Betty O'Neil of Laconia who asked Obama the first question of the day -- it was about a reduction in her Medicare check -- and stayed around for an additional hour so she could speak to him again when he went to the Soda Shoppe.

"I've been trying to figure out what you stand for," said O'Neil initially, prefacing her question. By the time he was done and O'Neil sat waiting for him on the bench, she was a convert.

"I hope he comes back and I'll be right here in the front seat," said O'Neil.
Obama in Iowa, a 5 city, 2-day swing

Obama's counterprogramming will be Seinfeldian -- it consists of nothing. Instead of major speeches, raucus message events and town halls, Obama will speak to what to him are fairly small crowds. They're billed as "grassroots" events and "family" events. He will keep his remarks brief and spend more time than usual working the ropelines. Town hall meetings are not Obama's forte -- in the immortal words of a fellow journalist, his turning radius on certain answers is akin to that of an aircraft carrier.

So instead of taking questions, Obama will take the time to meet Iowans one and one. Speaking of that number: smaller meetings are often the most efficient way to convince Democrats to caucus. Personal contact turns might-caucusers into definite-caucusers -- "ones" in the lingua franca of campaign operations.
In Keokuk, Iowa
Barack Obama is mingling, listening, to folk. Answering questions directly to folk.

Democratic presidential hopeful Barack Obama is campaigning in Iowa, meeting one-on-one with voters in southeast Iowa.

Obama began the visit in Keokuk where he climbed into the bed of a pickup truck and gave a short speech before mingling with the crowd.

Obama says that while his campaign raised a record $32.5 million in the last three months, his bid for the White House is about more than money. He says it's about taking the country in a new direction.

While Obama's events often attract thousands of people, aides say this trip to Iowa is designed to satisfy voters who are used to meeting and quizzing presidential candidates.

Obama also planned stops today in Mount Pleasant and Fairfield before heading to Oskaloosa, Pella and Des Moines tomorrow for the Fourth of July holiday.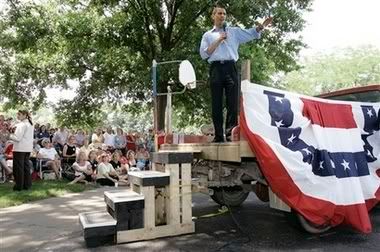 Barack in Keokuk, Iowa
"I'm skinny, but I'm tough"

From Mt. Pleasant, Iowa

"I'm raising twice as much money as any of the Republicans, which means that if they come at me with an attack ad, I'll have two ads -- with truth -- on television," the Associated Press quoted him as saying. "We're going to take that seriously. ... I'm skinny, but I'm tough."

That leaves out the fact that most of the money Obama is raising is for his primary campaign and cannot be used in a general election campaign against a Republican.

With a picturesque, multiple-acre grass slope and pond to his side, Obama appeared here during his first day of a two-day campaign swing through Iowa, his 13th trip to the early caucus state since February.

The image behind him was gorgeous enough to warrant a film crew for a possible future campaign ad.

Barack got a little,
"bugged"
.....
First, he swallowed a bug. Then, his words about the civil rights movement were drowned out by the sounds of a loud train.
Yes, it happens to the
BEST
of us, but he was still a "trooper".
Good Grief, I was just reminded why I do not watch "Faux News"!!
Obama Campaign hitting "the streets" July 4th

In the last three months, Sen. Barack Obama's presidential campaign has shown unprecedented growth in its movement to change America, and on July 4, campaign staffers and volunteers will fan out across South Carolina to attend events in every region of the state. Campaign workers will participate in parades, register voters and spread the word about Obama's message of hope.
I am adding this to the diary because there have been massive complaints on the boards about the actual strategies of Mark Penn, Clinton's chief strategist. Is this a reflection of how dirty this campaign can get? Maybe, but we gotta know what is going on.

Hillary Rodham Clinton's chief strategist is being accused of illegal eavesdropping in a civil lawsuit that alleges he and his polling firm monitored the personal e-mails of a former associate who started a rival company.

Mitchell E. Markel, a former vice president at polling firm Penn, Schoen & Berland, claims in the suit that the firm began monitoring all messages sent from his personal Blackberry device nearly a month after he had resigned and become president of his new business. The suit claims that the founder of the firm, Mark Penn, who is Clinton's strategist and pollster, knew about and approved of the monitoring, which the suit says violates federal wiretapping laws.
Will we really stay in Iraq? Obama, you listening?

Since Scooter scooted out of jail Hillary has settled on a tactic she's been experimenting with for a long time. Can she make radical-sounding red-meat declamations about how awful Bush is while leaving undiscussed her Iraq plan--which clearly, on the record, does not involve leaving the place entirely. She's into that waffly draw-down language, end-the-war language.

If you don't parse it too closely, that passes as getting ALL our troops out and REALLY ending the war, as opposed to the war as we know it right now. But she never says THAT. That's not her intention. She's planning permanent bases as surely as Bush and Gates are. She's hoping that if she Bush-bashes more dramatically than rise-above-the-fray, new-politics Obama, she'll sucker in enough of the base to beat him in the early primaries.

And it could work. Obama shouldn't change his tone on the Bush-bashing front. If he wants to trump this ploy he has to say something substantive: he has to say that he will REALLY end the war, as in get all our troops out--no bases.

If he says that, if he makes a major contrast with Hillary on that, his chances of winning the primaries go WAY up.

If he has to change is mind later, so be it. Circumstances change too.

Cynical?

OK. You wanna win, or what...?
July 4, 2007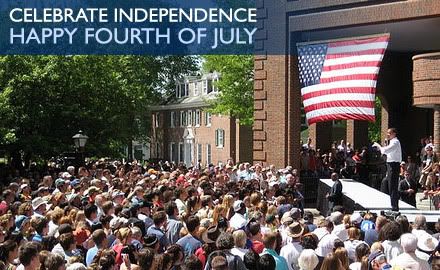 De-bunk of David Mendell's book, cites a person actually there at the rally and organized it. Gross misrepresentation of the facts and Bettylu Saltzman gets the FACTS RIGHT. Here is a snippet of the article, read the total article here.

McCormick wrote, "Obama gave the speech not just because of a desire to speak out about the coming war, Mendell asserts, but also to curry favor with a potential political patron, Bettylu Saltzman, a stalwart among Chicago's liberal elite, and to win over political adviser David Axelrod, who was close to Saltzman. 'Obama, still an unannounced candidate for the U.S. Senate, did not immediately agree [to speak at the rally],' according to an advance copy of the book obtained by the Tribune. 'But he told Saltzman that he would think it over.'"

Not only is the Mendell/McCormick recitation of facts pure fiction, it is a cynical fiction in that it does a disservice to Obama, to the prescient anti-war activists and to me.
More Iowa....


Wow, in Fairfield, IA, July 3, 2007 up to, 2000 strong....
Video of Senator Obama in Farifield, IA (requires Real Player)
"My campaign is not premised on running against the past, my campaign is based on what we can accomplish in the future," Mr. Obama said. "I do think we have not had - in a long time - a sense of common purpose where we have a working majority where we can move ahead on the issues."

Before concluding, he added: "We are striking a chord and I think people have confidence that maybe we can bridge some of those divides in this country. That's what it's going to take to bring about significant, real change. Change can't just be a slogan. Change has to be something that is demonstrated day-to-day on an on-going basis."

Then, he was asked to assess why he believes national polls show that Clinton is faring better across the country and whether he had any thoughts of the impact of Mr. Clinton's debut on the campaign trail, six months before the road to the White House opens here.

"I'm sure that Bill Clinton is going to be campaigning for his wife and there is nothing wrong with that," Mr. Obama said. "The notion that they are opening up this wide lead across the country , I think, is just sort of the ups and downs of national polling at this point."

When a reporter noted that several surveys have suggested the Clinton campaign has a double-digit lead over Mr. Obama, at least in some national polls, he demurred. And he reminded folks that he has a numerical bragging points, too: raising $31 million for the primary race, about $10 million more than the Clinton campaign raised in the last 90 days.

"What I am pretty confident," Mr. Obama, "is that we are going to have both the resources and the grassroots base that's going to allow us to compete fiercely and aggressively all the way through."
Do you really want change? Because change will cost you. Cost you? Oh yes, it will. It will cost you to believe, hope, wish, it will. Change means the things and folk you hold so reverently, you will put to the side for a chance. A chance? Yes, a chance on something, someone new. Really? Oh, yes. It means to move forward, think outside the box, and realize for this to work, for change to mean something, you have to decide, to take a chance. That is real change. Barack Obama.
On Tuesday Bill Clinton said: "Yesterday's news was pretty good," referring to his time in office and taking a jab at critics who call the former first couple old news.

Obama said he thinks voters are looking to turn the page and not return to an earlier era.

"I admire Bill Clinton, I think he did a lot of fine things as president and he's a terrific political strategist," the Illinois senator said. "What we're more interested in is in looking forward, not looking backward. I think the American people feel the same way. They are looking for a way to break out of the harsh partisanship and the old arguments and solve problems."

In the interview, Obama said his campaign is based on change and his history shows he can be an agent of change.

"Change can't just be a slogan," Obama said. "Change has to mean that we're not doing the same old thing that we've been doing."
Obama wrapped it up at the Iowa Cubs Game

With wife Michelle and daughters Malia, 9, and Sasha, 6, in tow, the Illinois senator spent a sweltering Wednesday afternoon finishing up his two-day, six-stop span of southeast and central Iowa, culminating with a trip to an Iowa Cubs showdown Wednesday night at Principal Park in Des Moines. The campaign bought about 500 tickets for the candidate, his staff and supporters for the game.

RECAP: Obama was in Iowa not only stumping, but had a video crew taking footage for forthcoming ads. Michelle and girls were not with him Tuesday, because they had a previous engagement with a "haunted house". Finally, it is all good in Iowa. WORD ON THAT.


Michelle and the girls
Lastly: July 4th Beaverdale Park, Lebanon, NH, Iowa Cubs
An arrest outside of Senator Obama's Hotel
Michelle Obama is "smart", "She just wants to be able to tell the president what to do"
Obama has more donors than top Republicans combined
July 5, 2007
Iowa, Meet Barack Obama

The crowd of several hundred was still getting settled in at the Smokey Row coffee house when the Barack Obama trivia questions started to fly.

What did he do after graduating from Columbia University in 1983? How did he meet his wife? Where were his parents born?

For those who have closely followed the Illinois Democrat's political rise, the questions are not challenging enough for the sort of Trivial Pursuit game Obama's campaign has started playing in recent days with crowds before he appears on stage at rallies.

But for the majority of the hundreds of Iowans assembled in the coffee house, the answers to the candidate biography questions were anything but obvious.

Even after national magazine cover stories, hundreds of television and newspaper interviews and two best-selling books, most of those who will cast the first votes of the nominating process next January know very little about the senator.

"People are not connected into this process," the candidate's wife, Michelle Obama, said later. "The average person is not paying attention yet to this race."
Web Attention Goes To Obama

On the Democratic side, Obama has daily attention averaging 44 percent higher than Hillary Clinton, and double that of John Edwards. "Obama's base-building efforts (reportedly over 110,000 people have contributed online to his campaign since the start of the year) are evident in his lead over rivals in attention," said Pace.
Crown Family backs Obama

If Sen. Barack Obama of Illinois becomes the next president of the United States, he may well spend some time in Aspen. After all, he's got a good connection here through one of his key Chicago fundraisers.

The co-chair of the Illinois Finance Committee for Obama '08 is James S. Crown, who owns, along with his influential Chicago family, the Aspen Skiing Co. and The Little Nell hotel.
Seems to be a "Three-Way Tie" in North Carolina

The Democratic firm Public Policy Polling is out with a new '08 robo-call survey in North Carolina. On the Democratic side, PPP's survey of the 3 top tier candidates shows Barack Obama trending upward while John Edwards is losing steam in his home state:

Democrats
Obama 27 (+5 vs. last poll June 4)
Clinton 27 (+ 1)
Edwards 26 (-4)
Other 10 (-1)
Undecided 11 (nc)

As you can see from the chart in the PPP document, Edwards peaked around 40% in late March/early April after announcing the recurrence of his wife cancer and has declined in every successive survey.
<object width="425" height="350"><param name="movie" value="http://www.youtube.com/v/VGow8ut5_34"></param&gt<param name="wmode" value="transparent"></param&gt<embed src="http://www.youtube.com/v/VGow8ut5_34" type="application/x-shockwave-flash" wmode="transparent" width="425" height="350"></embed&gt</object&gt
Obama Before The National Education Association
Text of Senator Obama's Speech to the NEA
Obama is all about LIVE EARTH
Obama's Internet Marketing Campaign

As eye-popping as Barack Obama's second-quarter fund-raising total was--it raked in $31 million for his campaign for the 2008 Democratic nomination, beating even the much vaunted Clinton money machine by better than $10 million in funds for the primary race--what really has the political classes chattering is another figure Obama reported: 258,000. That's the number of people his campaign says have already donated to him, and it amounts to more than a doubling of his fund-raising base in the past three months. "He's got a much more viral campaign than we do," says an envious Hillary Clinton strategist, using a term for word-of-mouth advertising and marketing techniques. "He's got a real buzz about him."

It's a buzz that Obama is finding new and creative ways to fuel, adapting to a world in which the concept of community has grown to include MySpace and Facebook. No campaign has been more aggressive in tapping into social networks and leveraging the financial power of hundreds of thousands of small donors. Nor has any other campaign found such innovative ways to extend its reach by using the Internet--more than $10 million of Obama's second-quarter contributions were made online, and 90% of them were in increments of $100 or less.
Obama could me more of the "Netroots" Candidate

Illinois's Democratic senator raised $10.3 million online in the last three months alone, adding to $6.9 million in the first quarter. The support of so-called netroots activists has helped him raise the most money and compile the largest overall list of donors in the field, including 110,000 who gave on the Internet.

Obama, 45, is benefiting from his appeal to a new generation of voters, his early opposition to the Iraq war and a smart use of new media, analysts say. They also point to a maverick feel to his campaign, of the sort that Republican Senator McCain had during the 2000 campaign and has now lost.

``Many of those who are most active on the net tend to be individuals who are not so Beltway-oriented, and therefore they're looking to support voices that they feel reflect their views,'' said Anthony Corrado, a professor and campaign-finance specialist at Colby College in Waterville, Maine.
July 6, 2007
Obama at the Essence Festival

Democratic presidential candidate Barack Obama urged spectators at the Essence Music Festival to help change the course of American history by addressing the social ills brought to light by Hurricane Katrina.

The Illinois senator reminded the crowd gathered Thursday that New Orleans was plagued by poverty, failing schools and high crime and murder rates for far too long before the catastrophic storm even hit.

"The legacy of race and poverty continues to shape our lives every day and it's time we did something about it," Obama said.

If any good news came out of Katrina, he said, "It's that America was ashamed on that day and the days that followed. America was shocked."

New Orleans will be a TOP PRIORITY
It should be. We, as a nation, had to stand back and watch the Bush Administration, spear-headed by George W. Bush, disregard, disrespect, disallow any help, committment or just plain, empathy, from this catastophic administration. Having a dog in this race, you damn right, I am looking for all these Democratic Candidates to say New Orleans, sweet NOLA, you are number one "in my book".

"The role of the next president is to make sure that the rebuilding of New Orleans is at the top of the national priority list," Obama said Thursday afternoon before his appearance at the festival. "Part of the reason I think folks in Louisiana feel discouraged is that we have not heard this White House or this president even mention it. He didn't mention it in the State of the Union address, and he hasn't mentioned it since. When our president is not focused on the issue, it does not end up on the front page of the papers."

That does not mean ordinary voters are heedless of the problems that continue to haunt New Orleans, he said.

"Everywhere I go around the country as I travel, the American people haven't forgotten about New Orleans. The American people are still frustrated and angered by the lack of progress," Obama said. "I think that there's a reservoir of good will that remains to be tapped, but it's going to require some leadership."

Not only did Hurricane Katrina generate goodwill, he said, but it also provoked a collective sense of shame in the images of poverty and helplessness splayed across the news when storm victims were stranded in rancid water with no food or supplies.
and,
Clinton follows Obama at music festival in New Orleans
Want to know about Obama's policy on Healthcare? Want to add your .02? Click here.
Obama's Tightrope

The average black American onlooker can't help feeling proud but also just a little hurt watching Obama. Proud of his ability to traverse minefields on a national political landscape and hurt by what America demands of black candidates seeking public acceptance and trust. During the debate, black Americans in the audience sat, hands poised, yearning to applaud a black candidate able to articulate our passions and sense of injustice. We wanted to hear that he understood and loved us -- not in the general, "we the people" sense but in the specific. Yet we know that with each utterance about injustice, each puff of anger or frustration about racism, we lose the very thing we seek: a viable black candidate. The closer Obama comes to us, the further he would be from winning the nomination and the presidency.

That is a reality of race and national politics in America. Part of Obama's appeal to white America lies in his hopefulness. It's in the way he looks toward a brighter future, and it's in his promise to bring us all along.

Yet the subtext of his appeal is in what he does not say. It's in his ability to declare that things must get better without saying who or what has made them bad. It's how he rarely chastises and how he divides blame and responsibility evenly; white receiving equal parts with black, poor equal parts with rich. The "we" Obama has created leaves blank the space traditional African American candidates would have filled with passion or a clear articulation of the state of black Americans. It's left some black voters unfulfilled and some white voters with a sense of acceptance and absolution from past wrongs and present-day injustices.
more.....
Tribe Lends Support to Obama's Iowa Push
The Michelle Obama "Experience"
Transparency? Reveal your funding requests!!!!

Four of them have released their request lists, putting pressure on others to do so. A fifth, Republican Sen. John McCain of Arizona, does not seek any money. Five others have not released their lists. Four cited long-standing policy. Democratic Sen. Hillary Rodham Clinton's office did not respond to repeated requests for comment.

The issue of publicizing requests for "earmarks" -- money targeted for specific programs or projects, usually in members' home states or districts -- is part of an effort by watchdog groups to shed light on what has traditionally been a largely secret process.

"We think the transparency will eventually lead to fewer earmarks," says Tom Schatz, president of Citizens Against Government Waste, which has asked all lawmakers twice for their funding requests. "It's difficult for the leadership to continue to say, 'We're the most open and ethical Congress ever, and yet we're not telling you what we're requesting for earmarks.'"
No wonder, Tucker has been scaled back on MSNBC
Candidates win or lose based on whether they resonate with the voters. George W. Bush won the last election because Americans were concerned about terrorism. Voters believed they would be safer with Bush in the White House than Sen. John Kerry. Bill Clinton won the presidency because voters thought George H. W. Bush had lost touch with the people. No campaign ad could erase the memories of the elder Bush looking at his watch during the presidential debates, as if he was bored with the whole process, or his amazement at grocery scanning machines, which made him look clueless about ordinary Americans' lives. Fair or unfair, these snap judgments stick.

At this point in the election, most Americans haven't yet formed opinions of many of the candidates. Hillary Clinton is the exception. People either love her or hate her, and the money she's amassed -- cumulatively, still more than anyone else -- will only go so far in turning skeptics into fans.
If the GOP ever wake up, and looks as if they won't, this underdog would be their
candidate....
July 7, 2007
Is America ready for a Black President? Or a woman?

Although 92 percent of the NEWSWEEK Poll's respondents claim they would vote for a black candidate (up from 83 percent in 1991), only 59 percent believe the country is actually ready for an African-American president (an improvement over 37 percent in a 2000 CBS News poll). Similarly, 86 percent of voters say they would vote for a female commander in chief, but only 58 percent believe the country is ready for one (up from 40 percent in a 1996 CBS poll). Two thirds (66 percent) of voters said there was at least some chance they'd vote for Democratic Sen. Barack Obama (35 percent said there was a "good" chance, up from 20 percent last May). About as many (62 percent) said there was some chance they'd vote for Democratic Sen. Hillary Clinton (43 percent said good chance, up from 33 percent). In a head-to-head race, though, Clinton dominates Obama 56 to 33 percent.
For an unshock, "Lieberman may back Republican in '08" snooze...
For a laugh,

Fred was an actor long before he was an actor. But take in the bullshit too, in the article itself, and in every word and gesture this man emits, on Law and Order and on the stump. He generates a fog of attitudinal fumes. He combines the worst of Reagan with the worst of Bush--most of all, the lazy narcissism in both of them. But Fred is so complete a honking phony. He's a walking parody of gravitas. The ultimate empty suit.
And we already
KNEW
this was
a comin'......
Dodd after Obama?
GOP got a lot to worry about
Turning Text Messages, into VOTES

When supporters of Sen. Barack Obama (D-Ill.) want a new way to express their enthusiasm for him, they can go to his Web site and download a ring tone for their phone. Then, whenever someone calls them, their phone will play a clip from one of Obama's speeches, or it will emit a cheer: "Go! Go! Go! Obama! Obama!"

With cell phones increasingly an all-in-one tool, campaigns are looking for ways to turn text messages into votes and the sometimes-annoying interruption of a cell phone ring into a campaign message. But political analysts conceded that with a medium so new, it is unclear how effective these mobile campaigns will be.
I thought this was OVER...CBC and FOX trying to save "The Democratic Debate"
Can I write, WHY? Over the years, we Democrats or just we the people, had to listen to the continuous "made up, falsehood, bogus" crap dished out over at FOX or "Faux News". And after the fake madrassa story about Obama, the continuous slurs out of Ann Coulter's (FOX or "Faux News", best friend) mouth about Edwards, and we won't even go down the road of how that organization has blasted and "blamed" everything on the Clintons, now they want our top candidates to kindly "reconsider" the debate? I promptly, and proudly, hope they will say, "HELL TO THE NAW". Has the CBC (Congressional Black Caucus), lost its minds? Really, have they? To share a bed with FOX or "Faux News" is quite unthinkable to not only me, but many like me, who have had the displeasure to listen to the vitriol tongue lashing of the cherry picked information coming from Bill O'Reilly, Sean Hannity, John Gibson, etc. My goodness this list is endless over there!!! And you expect our candidates to have a "fair and balanced" debate? Whatever you guys are smokin' at the CBC, you need to cease immediately. It ain't gonna happen. Nuff said.

The Democratic debate hosted by Fox News and the Congressional Black Caucus Institute threatens to be 90 minutes of bad TV, a planned presidential forum without the big-name candidates, a political event with few politicians.

Only three candidates, mostly lesser-knowns at that, have agreed to show up. The Big Three -- Sens. Hillary Rodham Clinton (N.Y.) and Barack Obama (Ill.) and former Sen. John Edwards (N.C.) -- said several months ago that they would not debate on the network that many Democrats believe tilts far to the right.

But organizers, including prominent members of the black caucus, are not ready to admit defeat. They still hope to entice (or shame) the front-runners into attending and, failing that, to devise an alternate format to add zest to the show beyond the lengthy discourses of Sen. Joseph R. Biden Jr. (Del.), Rep. Dennis Kucinich (Ohio) and former Sen. Mike Gravel (Alaska).

"We're moving forward no matter what. We're definitely having a debate in Detroit in September," said CBC Chairwoman Carolyn Cheeks Kilpatrick, who serves on the institute's board and represents Detroit in Congress. "We may change the format. We might have more than just the presidential candidates," she said.
July 8, 2007
Obama in Alabama on Monday, 2000 expected

Democratic presidential candidate and US Senator Barack Obama visits Alabama on Monday for fundraisers designed to attract the average citizen and those with plenty of money.

The Illinois Democrat will stop in Huntsville Monday afternoon to attend a one-thousand dollar-a-plate private fundraising luncheon at the Heritage Club in Huntsville.

Obama then heads to Birmingham for a 25 dollar-per-person fundraiser at 5 p-m at the Sheraton Hotel downtown. Spokeswoman Jen Psaki said the event is considered his Alabama campaign kickoff and is designed to attract college students, young professionals and "people who haven't had a means to get involved" in politics in the past.
Is American ready for a "trophy wife"? Yes, you read it here.
Student to have Dinner with Obama

Christina Cheatham, 21, donated $5 to the Obama campaign through the campaign's MySpace page. Now the campaign will fly her to Washington, D.C., for dinner.

Cheatham said she found the contest while surfing various candidate pages. But she was already an Obama fan and, in fact, has her own MySpace page called Christina for Obama '08!

"The other day I was reading an article. ... It accused Obama of hope mongering," Cheatham said. "Honestly, the president that I want to have is optimistic. ... He's still optimistic about the American dream."

Cheatham emerged a winner from "thousands who submitted their personal stories," according to an Obama campaign news release. The other three winners are "a mentor from the Bronx, the wife of a soldier serving in Iraq from Louisiana and a miner in Nevada," the release states.

"This dinner is about hearing from the everyday experts like Christina on how we can work together to look out for the next generation of leaders," Obama said in the release. "Christina's involvement with her community, her commitment to her school and her concern about the issues facing young people today will offer an important voice to the dinner."

A Decision To Be Made

DEMOCRATS, of course, are thirsting for change. Oh, but what flavor shall it be?

Linda Levey, a lawyer here, sees little reason to take a chance, particularly given today's precarious times. "I've tried to keep an open mind, but I think I'm going to support Hillary," Ms. Levey said. "We know what we'll get."

Jan Heckroth, a hospital chaplain, is ready to take a leap of faith. "I want something very new," Ms. Heckroth said. "As much as I liked the Clintons, think what a President Obama could do?"

When Senators Hillary Rodham Clinton of New York and Barack Obama of Illinois waved goodbye at the end of their tours across Iowa last week, voters were left with a handful of choices that will help bring clarity to the 2008 presidential race.
Across the Divide
A must read. A wonderful article by Richard Wolffe and Daren Briscoe of Newsweek.

Cornel West was on fire. Bobbing in his chair, his hands sweeping across the stage, the brilliant and bombastic scholar was lambasting Barack Obama's campaign. Before a black audience, at an event outside Atlanta called the State of the Black Union, West was questioning why Obama was 600 miles away, announcing his bid for the White House in Springfield, Ill. Did he really care about black voters? What did that say about his willingness to stand up for what he believes?

"He's got large numbers of white brothers and sisters who have fears and anxieties and concerns, and he's got to speak to them in such a way that he holds us at arm's length," West said, pushing his hand out for emphasis. "So he's walking this tightrope." West challenged the candidate to answer a stark set of questions: "I want to know how deep is your love for the people, what kind of courage have you manifested in the stances that you have and what are you willing to sacrifice for. That's the fundamental question. I don't care what color you are. You see, you can't take black people for granted just 'cause you're black."

A few days later, West was sitting in his Princeton office after class when the phone rang. It was Barack Obama. "I want to clarify some things," the candidate calmly told the professor of religion and African-American studies. Over the next two hours, Obama explained his Illinois state Senate record on criminal justice and affordable health care. West asked Obama how he understood the legacy of Martin Luther King Jr. and interrogated him about a single phrase in Obama's 2004 Democratic-convention speech: that America was "a magical place" for his Kenyan father. "That's a Christopher Columbus experience," West said. "It's hard for someone who came out of slavery and Jim Crow to call it a magical place. You have to be true to yourself, but I have to be true to myself as well." A few weeks later, the two men met in a downtown Washington, D.C., hotel to chat about Obama's campaign staff. Just a month after ripping into him onstage, West endorsed Obama and signed up as an unpaid adviser.
more....

A quick overview by
turneresq
Full Transcript of the interview with Senator Obama from Newsweek
Taking a LEAP of FAITH...

There is this narrow window that doesn't come around that often -- maybe once a generation -- where we have the opportunity to put our shoulder into the wheel and move history in a better direction," Obama told about 1,000 people Tuesday evening.

They were gathered around a gazebo in the old-fashioned town square in Fairfield, Iowa, where residents are known for their interests in meditation and environmental consciousness.

"That's the moment we're in," Obama exhorted, his voice building steam. "But we've got to seize it.

"If we seize it together," he said, allowing the last word to linger, "we are going to transform the United States of America. It's a matter of who can ignite the American people to build a movement for change."

That's the soul of Obama's message. Many Democrats find it electrifying.
more....
Obama Field Office Burglarized in Davenport, IA
Obama's team works to get out his back story
Now, DESTRUCTION EVERYWHERE, are we to be surprised?
I just am sitting here, wondering why all these Republican Senators up for re-election, now are backing off Iraq. Why now? Is it their incumbant seat, in the prestigious Senate? their DC cocktail parties? invite to all the political shows? and just being "somebody", that important? Yes, to all the above. Sad, but true.
Right now I don't have much respect for the Senate or the House for that matter. These persons that we have elected have no idea what war is about, what piercing families apart is about, what limbless troop members coming home is about, what financial struggle is about, what children growing up fatherless/motherless is about, what mental instability is about, and what DEATH is about. They are totally clueless about all the above. Sad, but true.
So, all this time, while thousands of men and women have been fighting a war that can not be won, the Senate has languished under the cloak of all the above.
If we can not get a person elected to the White House, 2008, that understands what is above? We will never recover from this. Not from all the above.
Shoutouts to the following: "Healthcare for Hybrids Act", by DemocraticLuntz; Ana Marie's diary on "Broadening Katrina's Lens"; and TarHeel's, Obama: "Change just can't be a Slogan". If you are in California, visit VoteHope2008, but more than that folks, DONATE. Various meetups in this diary. Interesting "Thoughts on Obama vs. Edwards"; psericks piece on Obama responding to Bill Clinton on experience; a diary by my "partner in crime", lovingj (check out the video with the little girl, who counts the presidents down to Obama); Michael Moore's diary, if you missed it, on SiCkO, a must read, must see film; Iraq Casualty Count; and to donate to Senator Obama's Campaign, click here.
Wow, look at the "sea" of these signs...this really is about you and me.....


ok, don't fight to much on the boards this week, and remember to "focus on Obama, and not the drama..."
email me for any questions, read ya, next week....
KEYWORDS
:
Barack Obama
,
Hillary Clinton
,
John Edwards
,
Chris Dodd
,
2008 Presidential Election
Sign up for a Complimentary Member Account... Join the community! It's fast. And it'll allow you to take advantage of all this site's great features!